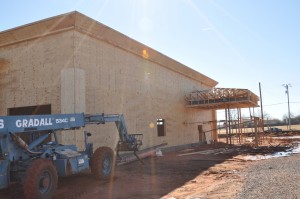 When it comes to dealing with dangerous heights and dangerous equipment, like the kind we use every day, it is imperative our men are equipped with the tools, knowledge, and action of safe practices. We place safety over speed. Each of our laborers is treated with respect, knowing that their safety and the safety of the ones around the site is the first priority.
We strive to comply with OSHA standards and are in support of stringent safety guidelines on projects. Our own safety program complies with OSHA standards. We are open to in-house safety audits to check for violations and potential hazards. Our Fall Protection Plan, MSDS sheets, and weekly job box meetings are available for our customers to view. Our forklift drivers are certified by us.
Cleanliness is a high priority on our list. Clean jobsites result in less injuries, period.